Custom Equipment Design
DELC Engineering has designed many pieces of custom equipment. Some examples of our designs follow: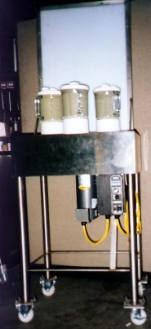 DELC Engineering Ltd. designed this industrial strength blending machine for a client who needed a blender capable of liquifing large quantities of seeds without burning out.
DELC was able to take three commercially available blenders and replace their motors with a single electric motor capable of driving all three blenders simultaneously.
<Various Stainless Steel conveyors

Falling Film Water chillers >
A tray indexer for an automatic cheese press
An automatic perogy maker
Sea urchin processing euipment
A cherry de-pitter
Hospital patient water bottle filler
Scale fillers
Crushers